News From Bakelaar Jewellers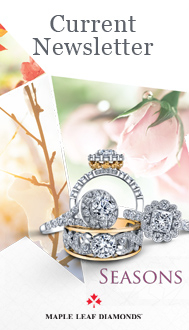 Canadian Maple Leaf Diamond Boutique 
Wednesday December 2, 2015 from 3-7 pm.  On the same day as our signing event, we will be show casing our Maple Leaf Diamonds. Make this Christmas a Maple Leaf Diamond year.
Bridal Walk in Listowel
Wait for our 2016 details

Waterford Crystal Signing Event with Tom Brennan
Wednesday December 2, 2015 from 3-7pm - Tom Brennan's Ireland Vase and Bowl are now available for sale. Tom will be pleased to sign these pieces for you. Order Yours in time for the signing event.  Check our FB page for details of this event. 
Reader's Choice Awards
Thank You for choosing us as your 2015 Favourite Jewellery Store for the fifth year. We really appreciate your confidence in us and look forward to continue serving you.

Please join our email list to receive our newsletter. Click on the Current Newsletter image to read.
View our Business of the Month Video featuring Maple Leaf Diamonds and Waterford Crystal on their respective pages or on our Home page.
MEMORIES NEVER LOOKED SO BRILLIANT
Where Elegance and Style meet, since 1967